TOP NEWS IN AILRSA - All India Loco Running Staff Association, Indian Railways :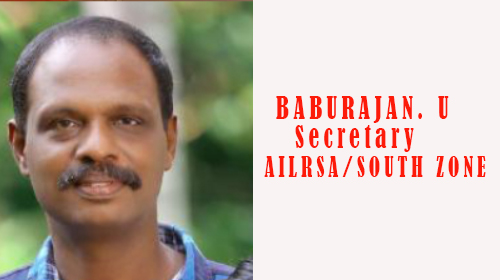 Stepping down of a dynamic dedicated trade union leader from Railway service :
When Com.K.C.J retiring from service........... Yes it became true that our veteran leader ending his Railway service on 10/10/2020 on his VRS request. No running staff like to hear it. Right from joined in Railway in the year 1986, com. K.C.James was in front of AILRSA. He served running staff through various capacities of AILRSA as Branch Secretary/SRR, Divisional Secretary/Palakkad, General Secretary/South Zone and continuing as our Joint Secretary General. On each and every issues Com.K.C.J will approach in depth with all earlier and existing norms and finalize the strategy which will acceptable to all. Even for simple personal issues of workers K.C.J will stand with them till end. In his life after joined in Railway he gave most priority to AILRSA than his personal life. He has faced many losses in his personal life as well as service career. Railway administration purposefully failed him in Passenger Driver selection only on because of his trade union Leadership. Com.K.C.J is a different charector in trade union work. For every union functions K.C.J will be first man who present and last man who leave the venue. For all our CWC meeting K.C.J is the man who nominated for preparing draft resolutions. Even without sleeping in the night he will finish the draft resolutions well before the scheduled time of presentation. He is one who filled the ability of leading a movement with both theoretically and practically approach on the issues. Com K.C.J is keen in enquiries of personal problems of the workers ( not only workers for all human beings) and will initiate all possible remedial measures. When shouldering the dynamic leadership of AILRSA ,KCJ was talking every step to unite all sector of railway employees and trade unions to make a platform to fight against the working class issues. Com.KCJ is dynamic leader not only for a particular area but over nation and for every employees. When Com.KCJ retiring from service the situation ahead us is too crucial. Threatened the existence of railway employees, Privatization process is at its rampant growth. It is KCJ one who studied the ill effects of Privatization in depth and atleast among running staff we could develop a spark. Under the leadership of KCJ a joint trade union movement could initiate in Southern Railway , and trying to build up a national platform of trade unions unity. There is nobody to substitute KCJ. Even though he is retiring from service, he will be with us , with working class as long we need his service. The only pain is that he is retiring from service at a situation when we are unable to honour him in a manner he deserved, which is the right of every AILRSA members. Any way we will honour our veteran leader suitably at appropriate level when condition relaxed. I wish a Happy and prosperous retired life to my "Guru" of AILRSA. Baburajan U Secretary AILRSA/SOUTH ZONE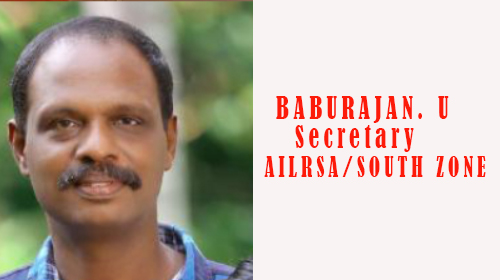 Ceiling for Basic pay for the entitlement of NDA. :
Ceiling for Basic pay for the entitlement of NDA. In compliance with the DoPT OM No.27016/02/2017-Estt dt.13/07/2020 Railway board have issued order vide above cited reference to provide a cap on the Basic pay for calculation of NDA rate. As per the above order ceiling of Basic pay for deriving NDA rate is fixed as 43600/ is unjust and discrimination to all employees drawing basic pay above 43600/-. This order is unjust, illogical and amounts to total violation of earlier recommendations of various committees and decision of Government of India. Earlier various committees have made many recommendations on NDA and Ministry of Railways have also accepted it. Subsequent on acceptance of Justice Miabboy Tribunal (RLT-69) award RB have issued order Vide No.PC-72/RLT-69/1 dt 09/03/73 extending payment of NDA to various categories of employees of Indian Railways. RLT(69) award vide Para No.2.28(1) says that "the demand of the federations that night duty allowance should be granted to all Railway employees irrespective of their category and irrespective of the pay limit which is at present imposed is granted'. The award of RLT-69 removed the pay limit for entitlement of NDA was accepted by the Government. Considering this award pay limit for allowing NDA is not affected to the Railway employees,even though upper limit of pay scales are implemented for other central government employees. So long as the arbitration award of RLT-69 prevailed Ministry of Railways is debarred from prescribing an upper limit in pay for allowing NDA. 7 th CPC after a detailed examination on various authorities such as Night work convention 1990 of ILO, various study on deterioting effect of health by prolonged period of performing night duties and interruption of sleep during day time etc recommended to continue to pay NDA to all staff who are in receipt of NDA. Further recommended to abolish the existing formulation of giving same rate of NDA for all employees with a particular GP and recommended to calculate NDA based on the basic pay of individual employees considering the computerisarion of pay roll. Further committee constituted to finalize the recommendations of 7 th CPC on various allowances,vide Para No.5.4.17 decided to accept and continue the recommendation made by 7 th CPC on payment of NDA. The arduous task in performing night duties and its ill effects on health conditions have already proved by various committees. Indian Railway is one of the establishment functioning round the clock irrespective of all climatic conditions. When compared to other sectors majority of employees performing night duties belongs to Railway and the implementation of DoPT OM on NDA will largely affect Railway employees. In case of running staff the night duties are irregular and supposed to perform 3-4 continuous night duties. In such performance of duty required to pay continuous attention without a fraction of second lapse. Due to this most of the running staff facing multiple health problems such as BP, diabetes etc at early age. Many running staff became medical unfit only due to the nature of duty especially by performing such continuous night duties. When the above order is implemented majority of running staff happened to receive much lower NDA rate than eligible. Discriminative treatment of one who performed night duties without giving any weightage and one who enjoys night rest is quite unjust. So this association demand to scrap the above RB order and to continue the existing system for the payment of NDA. Baburajan U Secretary AILRSA/SOUTH ZONE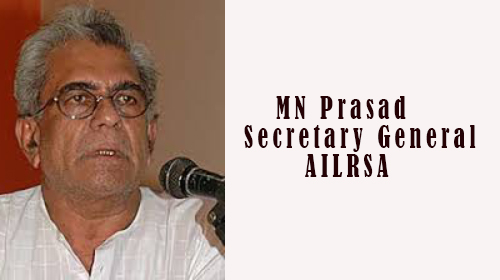 form co-ordination committee :
Once more I hereby advice all of branches of AILRSA to sincere effort to form a co-ordination committee (Jt. Committee) taking the interested organisations which are existing at your place (branch ) to fight against Privatisation, DA/DR freezing, reducing the workforce, and different allowances in different ways, amending the labour laws against working class etc. to what extend possible and report me back the progress. MN Prasad Secretary General AILRSA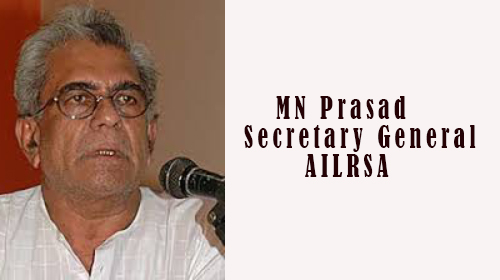 solidarity to strike in defence sector :
I advice all unit of running staff to support and show their solidarity to strike in defence sector on 12 th. Oct at their working place maintaining all the advices in way what is possible to you but exhibit the poster in support of striking defence workers. MN Prasad Secretary General AILRSA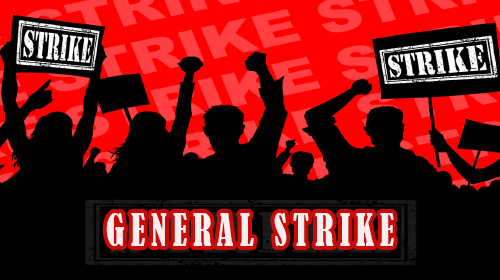 Central Trade Unions and Independent Federations declare #Nationwide_General_Strike
Central Trade Unions and Independent Federations declare #Nationwide_General_Strike #On_26_November_2020 Central Trade Unions and Independent Federations declared Nationwide General Strike on 26 November 2020 against the anti worker, anti farmer, anti people anti national policies of BJP Government in an online National Convention of Workers held on Gandhi Jayanti Day, 2nd October 2020. The National Convention strongly condemned the onslaught on the basic democratic and constitutional rights of the workers, farmers and common people of our country by Modi led BJP government at the Centre as well as by BJP State Governments. The convention expressed support and solidarity with the struggles of different sections of the society and workers from both organised and unorganised sectors. The convention noted the militant resistance struggles of the workers against the privatisation, Corporatisation, FDI etc in various sectors including the Railways, Coal, BPCL, BSNL, Finance Sector. The Convention adopted resolutions in support with the struggles of Electricity employees in Uttar Pradesh, Proposed struggles of Coal and defence sectors. Workers all over the Country will hold militant demonstrations in support of the strike of defence sector in all the workplaces on 12th October, 2020 and after every week thereafter, till the strike is settled honourably. This convention extended full solidarity to the farmers who are demanding withdrawal of anti farmer agri-laws which have been passed without even allowing voting on them and declared that the joint trade union movement would continue to support and express solidarity in all forms to their struggle at the national level as well as in any part of the country.The convention condemned the divisive machinations being played out, by the BJP governments to tear up the secular fabric of our society by implicating all those express dissent. The convention expressed serious concern over the increasing violence against women and condemned the Hathras rape and demanded justice to the victim. The convention was addressed by G Sanjeeva Reddy (INTUC), Amarjeet Kaur (AITUC), Harbhajan Singh Sidhu (HMS), Tapan Sen (CITU), Shankar Dasgupta(AIUTUC), G Devarajan (TUCC), Soinia George (SEWA), Santosh Roy (AICCTU), M Shanmugham M P (LPF) and Shatrujeet (UTUC). Thegroup convention which was telecasted live in facebook has reached more one lakh workers through various links. In many workplaces workers joined the convention in groups. The following programmes were adopted by the convention Ø Joint state/ district/ industry/sectoral level conventions (physically wherever possible, online otherwise) will be organised in October 2020 Ø Extensive campaign on the adverse impact of the labour codes on the workers down to the grass roots level up to mid November Ø One day country wide general strike on 26th November, 2020. Let it be known that this One Day Strike is in preparation for more intense, more tenacious and longer struggles that lie ahead. The Convention called upon all the working people, whether unionised or not, affiliated or independent, whether from organised sector or unorganised sector, to intensify the united struggle against the anti-people, anti-worker, anti-farmer and anti-national policies of the Govt and make the call for countrywide general strike on 26th November, 2020 a total success. INTUC*AITUC*HMS*CITU AIUTUC*TUCC*SEWA AICCTU*LPF*UTUC And INDEPENDENT FEDERATIONS/ASSOCIATIONS....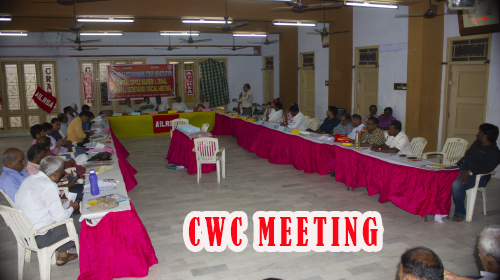 DECISIONS OF CWC MEETING HELD ON 3rd & 4th SEPTEMBER 2020 :
Decisions of CWC meeting held on 3rd & 4th September 2020. I. Program of action against Privatisation: 1. Secretary General shall initiate to convene a virtual meeting of Railway Trade Unions within this month to form a national coordination Committee for "Save Railways to Save India" campaign. All out efforts to be taken to organise the trade unions, democratic forces, rail users, youth organisations, students and the general public to join the campaign.. 2. Com. K. C. James shall take the responsibilities to contact all Railway trade unions and prominent leaders in SR, SWR and SCR. 3. Com. Chandan Sarkar and Com.Paras kumar shall be responsible for ER, SER, E Coast, ECR, SECR, NFR and Metro. 4. Com. M. P. Deo shall be responsible for CR, WR, NCR and WCR 5. Com. Padom Singh shall be responsible for NR, NER and NWR. All Zonal, Divisional committees shall undertake intensive campaign against ill effects of Privatisation through Leaflets, door to door campaign, webinar etc. to enlighten our cadre and prepare them to take anti-privatisation movement ahead. II. Programme of Action on loco running staff grievances : The CWC identified the following demands to be highlighted at this stage. (i) Revise Running allowance rates with mean Pay as per RAC 80 formula and pay arrears from 01.01.2016. (ii) Limit maximum duty to 10 hours as recommended by HPC, pending reduction to 8 hours with 90 hours fortnightly limit. (iii) Allow L6 pay scale to ALPs (iv) Allow 30 hours PR independent of 16 hours trip rest. (iv) Restrict continuous night duties to two. (v) Ensure parity in Pension to pre 2016 running staff pensioners. (vi) Vacate victimisation of Loco running staff of KGP division. (vii) Grant recognition to AILRSA. (ix) Ensure COVID safety protocol similar to health workers. (x) Stop unsafe working, introduce unified SR for rules pertaining to train operation. (xi) Do not entrust FSD and cab sanitisation on ALP. (xii) Conduct safety audit on vulnerable signals and provide starter indicators to starter signals on curved platforms. Programme of action: 1. Memorandum detailing all the issues in the above may be sent to the Hon. Prime Minister, MR and CRB by 20th September 2020 by the Central Committee. All Branch committees too shall send it after conducting protest demonstrations at depot level. Memorandum will be prepared by Southern Railway comrades. 2. Mass signature campaign from 1st (Thursday) to 10th (Saturday)October 2020 in divisional level and to be submitted to respective DRMs. 3. Black day on 30th (Friday) October 2020 – wearing badge and holding demonstration at all depots or at divisional level if Covid situation subside. 4. The next CWC will decide further course of action. 5. All branches and divisions are directed to organise immediate protest locally against every anti-labour actions from Railway administration and the matter may be reported to Central President , Secretary General and Central Office bearers. III. Golden jubilee BGM Golden jubilee BGM proposed in September 2020 at Vijayawada was forced to postpone at the stage of forming reception committee due to COVID situation. SCR is advised to form reception committee when normalcy is regained and advise the probable date of holding BGM in a historical and memorable manner. The date of the BGM will be decided by CWC meeting on receiving the probable date. IV. Victimisation fund for KGP division: Decided to continue till the Comrades are reinstated. The default zones are once again directed to send the financial assistance as decided. V. Membership 2020: CWC congratulate the branches those had taken the pain to enrol membership amid the COVID situation and many enrolled more than last year. All other branches shall complete the same with a target of 50,000 all over India, in this month itself. Zonal Secretaries shall monitor, send the membership statement and central quota by 31st October. VI. Fire magazine To publish the Hindi Fire, last CWC had decided to send Rs. 5000 as an advance to Com. Giriraj Sharma. As proposed by 21 divisions out of 69 send the advance amount and the amount received is Rs. 1,50,000. The printing charge for one volume is Rs. 2,50,000 and hence printing could not be done. Once again direct the divisions to send Rs.5000 as decided. All the dues to English Fire also to be cleared. Your's Comradely (M.N.Prasad) Secretary General
TOP NEWS IN AILRSA - All India Loco Running Staff Association, Indian Railways :
Two private British Companies namely the East Indian Railway Company and the Great Indian Peninsular Railway Company founded in London in 1845 started the construction of the Indian Railways. The first Trade Union formed in Indian Railway was Amalgamated Society of Railway Servants in India (ASRSI) in 1874. Later the name was changed as United Service and Railway Servants Association in India (USRSAI). In 1920 All India Trade Union Congress (AITUC) was formed. Later the name was changed as United Service and Railway Servants Association in India (USRSAI). In 1920 All India Trade Union Congress (AITUC) was formed. Around 18 Railway Trade Unions participated in the conference. In 1924 All India Railway Men's Federation (AIRF) was formed.